Guide
How to Sterilize Menstrual Cup Without Boiling? – Tips to Sanitize It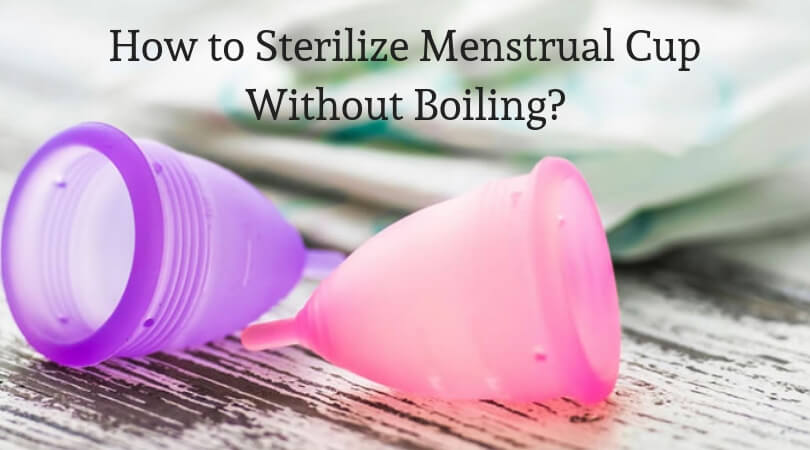 Menstrual cups are boon, aren't they? It is so convenient to use a menstrual cup instead of a sanitary pad or tampons. Not only these cups are comfortable, but it is also easy to reuse these cups. It is comfy and convenient for all the working and college-going women. The cleaning and the sterilizing process is also easy for menstrual cups.
Many women suggest boiling it in water for 20 minutes at least to sterilize it entirely. Sterilizing is essential as it prevents any infections. It is recommended to use cups only after sanitizing it. But what if you are on a trip living in a hotel or hostel and there is no boiling water? Well for such time and other situations when you can't find equipment to boil water; there are different ways to sanitize the cup. There are several ways of doing it that I am going to share in this article along with some helpful tips.
How to Sterilize Menstrual Cup Without Boiling?
The general procedure before cleaning any menstrual cup:
Make sure that you wash your hands properly. There is no dirt in your fingernails and hands as it can be an issue while sanitizing the cup.
Keep everything ready that you will require for the process. The most frequently needed things to include a dry towel, a bowl, and a pouch for storing the menstrual cup.
Method 1: Use vinegar to clean and sterilize the cup
This method works wonders for sanitizing the menstrual cup, without using the boiling water. Vinegar is a great sanitizing agent. It is also affordable which makes it the best way to clean your cup without burning a hole in your pocket. The quantity required is less, which means it lasts longer. And as it can also be used in cooking, it's a win-win situation.
You can use vinegar in two ways to clean and sanitize the cup.
Take water and vinegar in the ratio of 9:1, that is nine parts of water and 1 part of vinegar in the bowl. Rinse the cup in this solution and let it soak for a minute or two.
Do not keep the cup for too long in such mixture as it might damage the cup.
Another way is for the times you are too lazy to get up and prepare such a mixture. Wash the cup under warm water thoroughly. Then take some vinegar on a cotton pad and wipe the cup with it. This process is quick and effective.
Method 2: Use a cleanser or soap to clean it
Many soaps and cleansers are available in the market specifically for cleaning the menstrual cups. Look out for soap or cleanser that has no perfume and is mild. The critical feature that you should focus on while purchasing is its pH.
Buy a soap that has pH more than seven but less than 10. This is the safe level of pH for cleaning and sanitizing the cups.
Also, see to it that the soap doesn't have antibacterial properties as this could lead to yeast infection in the cup.
Once you get the right soap or a cleanser, wash the cup thoroughly with water and soap.
Let the cup dry properly on a towel or a tissue and then keep it in the pouch.
Method 3: Use a toothbrush for getting all the debris out
You must be wondering why to use a toothbrush? Well, ladies, I am sure you must have noticed the dots on the bottom of your diva cup. These are the holes that help in providing the suction pressure in the cup.
Often you might notice that these holes. Also, bottom rim changes it's color to reddish brown due to staining. Don't worry about the staining it's quite normal.
To get all the debris out of these crevices, have a toothbrush handy. Keep it aside for cleaning the menstrual cup only.
Now keep the cup under running warm water and start taking out the debris with the help of the toothbrush.
This method makes sure that there are no debris or stains on the cup. Try doing it once or twice a month to maintain the usability of your diva cup.
Method 4: Rinse it with cold water
Another excellent method to sterilize the cup is to use cold water. It is often suggested to rinse the cup with cold water before washing it with warm water.
If you are someone who travels a lot and uses public toilets, then this method will be the most helpful and effective one for you.
Take the menstrual cup out, drain everything that is in the cup and flush it. Now wash the cup with cold water thoroughly. Once it is done, take the toilet paper and dry the cup and wipe the rims of the cup. This cup is now good to use.
Washing with cold water helps in preventing any discolouration or permanent staining on the cups. Another advantage of this method is that it is useful for cleaning the cup on periods.
Method 5: Use alcohol to clean the cup
The rubbing alcohol is known to have properties of a disinfectant. This helps to kill the bacteria and sterilizes the surface. Due to such features, it is used in the chemistry as well as research laboratories to sanitize the work desks.
For sterilizing the cup, you can take a little amount of alcohol on the cotton pad. Wipe the cup with this cotton pad.
After you wipe the cup thoroughly, rinse it with water. Let it dry, and voila you are done.
Tip: Always wash the cup thoroughly after you are done sterilizing the cup and let it dry. Keep the cup in the pouch it comes with like most of the diva cups come with a small pouch. Always store in a different pouch and then carry it with you.
So, ladies, these are some easy and quick ways to sterilize your menstrual cup. I, however, would suggest you clean with boiling water when you can. You can also combine two methods for sanitizing it. I hope this article helped you in getting the new ideas for sterilization of the menstrual cups.