Reviews
Best Sanitary Pads for Tweens – Be Prepared for First Period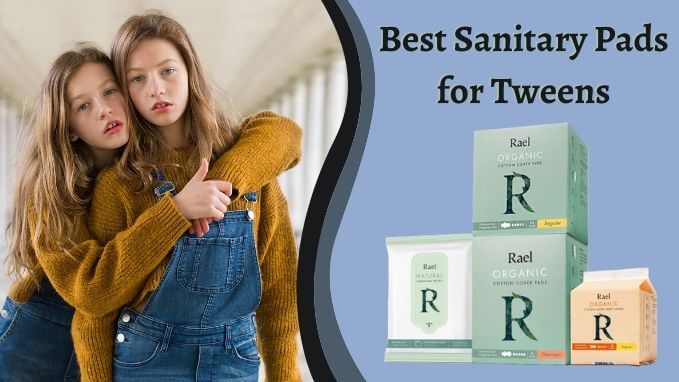 Being girls/women, we can't deny the fact that our first periods are/were overwhelming. We are happy and sad at the same time. We are delighted to know that we are finally moving forward to our adulthood, and soon we will become proud women, and sad because of the period itself as it will visit us every month and we have to deal with cramps and mood swings from now onwards! We are unable to decide which kind of feelings we get and what we are going through.
If you are a tween and reading this article, don't worry as you are not alone. (obviously!)
Your mother, elder sisters, and I, we all were also miserable and got the same vibes during the whole process. Whatever you think or feel, the first periods are definitely special. Yes, you have to consider many things altogether. This article will give you a few options for the best pads for the first period. It will work fantastic for you. Let's start? You git this! 🙂
Best Sanitary Pads for Tweens
1. Rael First Period Teen Kit

Putting this product as the first option has a reason. This kit can become your one-time solution. It includes small and regular pads, regular liners, and female-friendly wipes. Not only that, but it also comes with Overnight Organic Cotton Cover Pads which is the best choice for 10 to 12 years of girls or tweens. Whatever you need it, you will get it from Rael.
Key Features and Specifications
No matter if you are thick or thin, Rael manufactures three sizes of pads – extra small, small, and medium. It's essential to choose your size accordingly.

The pads and liners are breathable and ultra-thin. You will surely feel comfortable with this certified, 100% organic cotton pads and liners.

Rael specially provides an eco-friendly pouch for carrying sanitary pads that can easily slip into a school bag, handbag, or even in your pocket.

The period panty is also made with pure organic cotton. Just keep one thing in mind is that it is necessary to wear a pad or tampon along with it.

Natural feminine wipes are very convenient at the time of travel. These wipes are flushable and help you to keep your external vagina areas fresh and clean.

As the wipes are formulated with natural botanical extracts and eco-friendly pulp, there will be no burning sensations at the time of cleaning your private parts.

The facial masks and acne healing patches moisturize the skin and help you to fight the hormonal changes you feel on your face during your first period.

---
2. U by Kotex Ultra Thin Pads for Tweens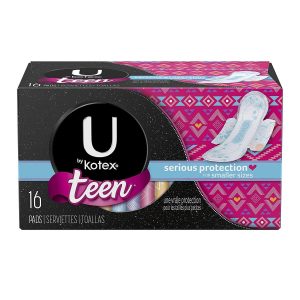 Most of the time, you will have to adjust with pads that are the most suitable for the 15 to 19 years' girls. U by Kotex is the only brand that manufactures pads specially designed for 10 to 12 years of girls or tweens. They are smaller than the regular pads. They have a CleanWear cover to keep you clean and fresh and a MicroMax core to lock the fluid. These features help to prevent any leakages at the time of tween periods.
Key Features and Specifications
The company claims that their Always Infinity Pads can stay drier than ever because of its comfortable and protective CleanWear cover.

U by Kotex pads have a bright and bold style that the majority of young girls like the most. It is indeed one of the best sanitary pads for the first period

Its tween-friendly center designs provide a strong core and severe protection. It keeps wetness in the middle of the pad and away from the body.

The company understands how sensitive a tween's vaginal parts can be! So, it provides soft and comfortable cotton pads that are not rough.

Its cottony side barriers known as Tru-Fit wings keep the pad in one place and help to protect against side leaks. They also prevent bunching.

U by Kotex Tween Pads come in bright, interesting colors and patterns. Basically, it is a heavy flow pad that comes in smaller and narrower sizes.

This brand also manufactures liner. You can also check out the U by Kotex Tween Combo Pack to get the everyday protection and the pads.

---
3. Always Totally Sanitary Pads for Tweens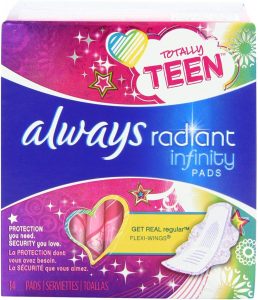 If you thrive for some light-weight but heavy-absorber pads, then Always Radiant Teen Pads are there for the rescue. They can absorb ten times more than their weight and yet feel very light and dry. You will hardly notice that you are wearing a pad and still feel secured because of its 100% leak-free protection. As it is specially designed for teenage girls, they have fun floral prints. Feel good!
Key Features and Specifications
These incredible sanitary pads offer FlexFoam technology. FlexFoam is incredibly comfortable and makes the pad more absorbent.

It has proved itself for its long-lasting feminine pad technology. They give protection for 8 hours! Don't worry if you need to go to school wearing a pad.

Its stay-secure Flexi-wings stops the side leakages. As it is thin and flexible, wearing it throughout the day and even at night is not a big deal.

Many brands don't care about the wing adhesive, but Always is not one of them. Its better-than-ever wing adhesive helps the pad to stay in one place. 

Because of age, tween may not get even the lightest flow during the last few days of their period cycle. Then, they can get panty liners to solve that dilemma.

---
4. Asana Unscented Pads Variety Pack for Teens
Another option for the best sanitary pads for tweens is Asana Unscented Pads. This kit includes five regular, four heavy, and three mini pads with wings for your lightest and heaviest flow day. The pads of this brand naturally help in preventing the smell caused by Yeast Candida with its patented odor-elimination technology. They are also famous for balancing the PH and hormone levels.
Key Features and Specifications
It is designed with leak-proof borders and an absorbent inner core to lock the fluid and other moistures. Don't worry about the stains as they will not happen.

The pads are made with hypoallergenic, breathable sheets that help alleviate irritation, chemical burns, blisters, rashes, itchiness, chafing, and discharge.

Its natural semi-precious gemstone and negative oxygen ion technology soothe contracted uterine muscle and reduce menstrual pain and cramping.

With Asana Teen sanitary pads, you can boost your confidence the way these pads increase your comfort. You will feel drier, fresher, and freer all day long.

As they are made from biodegradable non-woven material and completely chemical-free, these ultra-thin sanitary pads absorb up to 10x more fluid.

---
5. Always Radiant Sanitary Pads for Tweens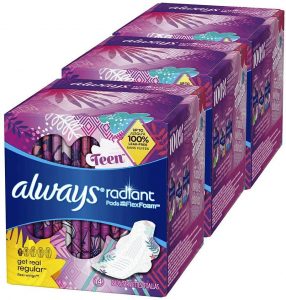 Get up to 100% leak-free protection with Always Radiant Teen Pads and see how they absorb ten times more than their original weight. Always' FlexFoam technology locks the liquid and keeps the pads dry for more than 7 to 8 hours. If you decide to go with this product, I think you will feel amazingly light and comfortable. So girls, don't be afraid to wear your favorite white jeans even when you are on your period!
Key Features and Specifications
This pad is able to give 360° protection and incredible comfort with its unique design. Unlike harsh pads, it doesn't cause rashes or itchiness.

It absorbs more than the regular tween pads, and its core locks away all the fluid and moisture. These pads last longer than the regular schooling hours.

It is simple, gentle, and reliable. You can trust these pads as they are safe for any tween's sensitive skin. The young girl will surely feel good after using these pads.

It provides a great fit and better protection. Not only that, but they are also stylish because of its fun floral prints. You are going to love its bold design.

Even without being too thick, the pads still provide extra layers of protection. You must not worry about the period stains also if you think that your flow is heavy.

---
These are the best sanitary pads for tweens according to my experience and customer reviews. Whatever you choose from the list mentioned above, just make sure that it is the most suitable option for you. You can also try different pads and then decide your type! Remember that your skin might be super sensitive at this stage, and the sanitary pads may cause rashes. Also, you need to take care of the shapes and sizes of the pads as you are not aware of what is coming next! So, seek your elder's advice and try to embrace the changes.