Guide
Best Tampon for Heavy Flow and Swimming – Leak Proof Tampons of 2020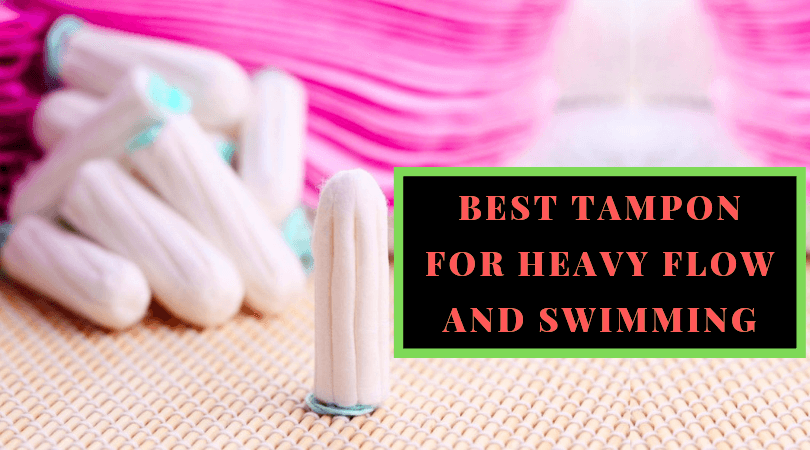 Heavy flow on periods is something every woman experiences in the initial or later days of menstruation. While some women are not troubled by this, others are continually struggling to find ways to have comfortable and leak-free periods. There are a lot of options available such as pads, menstrual cups, and tampons. Sanitary pads have become something that most girls do not find convenient due to many factors. One of the primary reasons is that pads have lower absorbance than the cups and tampons. For making your periods more comfortable, you can opt for the tampons having higher absorbency to prevent leaks and stains on the periods.
There are many options of tampons that are readily available in the market today – both online and offline. Some of these are explicitly designed to prevent leaking. Those women who have long work hours or are into sports know how difficult it is to keep a check on the flow and leaks. For them, some brands are coming up with super absorbency rates and have the ability to lock-in the fluids. Several companies are introducing compact size tampons as well that are easy to carry discreetly. These tampons are expandable and comfortable to insert.
Best Tampon for Heavy Flow and Swimming
As there are a lot of options available in the range of tampons, selecting the best option is difficult. So for making it convenient for you to decide which one to buy, I have compiled a list of the best leak-proof tampons in this article.
Now let's check out the list of the best tampons for heavy flow and have less stressful periods. 
1. Tampax Radiant Tampons for Heavy Flow and Swimming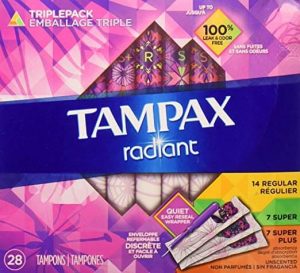 Heavy bleeding in periods can worry any woman. Mostly it is due to the fear of leaks or stains on the clothes. Tampax tampons are designed in such a way that they have a super absorbency feature. Along with their absorbance, the tampons are 100% leak-free. 
Key features:
The tampons come with a LeakGuard braid that prevents leaks and thus keeps staining at bay.

It gives outstanding protection of up to 8 hours.

The insertion process of the tampon is easy due to its CleanGrip applicator.

It is also easy to dispose of the tampon with the quick reseal wrapper. Make sure you always dispose of it in the sealed wrapper only.

It is odor-free as well. So, the women who don't like the typical smell of pads or tampons can definitely buy this. 

The applicator comes with the anti-slip design making it easy and comfortable to insert it.

---
2. Playtex Sport Compact Athletic Tampons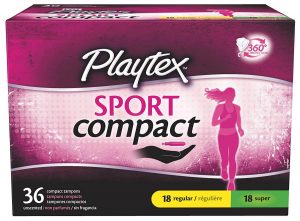 Athletes or women who are into sports find it the most difficult to keep a check on leaks. Well, there are tampons by Playtex that are specifically designed for this category of women. It is a small pocket-sized tampon that is 30% smaller than the full-size ones from the same company. These tampons offer overall protection from leaks all day. It has FlexFit interlocking fibers that are designed to move with you and quickly trap the leaks. Now, have fun playing all kinds of sports and activities with your friends without worrying about leaks.
Key features:
They come with a contoured applicator that helps in precise and comfortable placement.

They have 360-degree triple layer protection in it.

The tampons are sans perfume so they can be used by women who are not fond of the scents in their pads or tampons.

There is an expandable plunger that helps in inserting the tampon.

It also has expandable backup layers that help in locking the fluid for better protection.

You can easily place it by pulling the plunger until you hear a click sound.

---
3. L. Organic Cotton Tampons for Heavy Flow and Swimming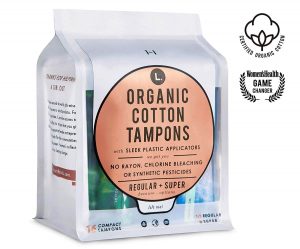 L.Organic is one another brand that I would like to mention in this list. Although the tampons are slightly expensive than the others, you can invest in it as they use 100% organic cotton to make tampons. The cotton used is GOT certified and is suitable for use. With every purchase of tampons or pads, the company donates products that are not accessible to every girl or woman in need. So now you can contribute towards a noble cause and get these organic cotton tampons.
Key features:
It has a BPA-free plastic applicator that makes it easy and comfortable to use.

There are no pesticides, fragrances or dyes used in the making of these tampons. 

They are also free of chlorine bleaching.

The pack includes 64 super tampons along with regular-size tampons.

They are hypoallergenic and breathable which makes it very convenient to wear it all day.

There is no animal testing done as the brand is cruelty-free.

---
4. U by Kotex Click for Tampons for Heavy Flow and Swimming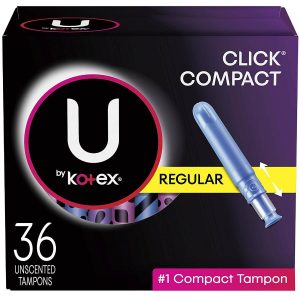 Another excellent option for the ladies who want to buy tampons with good absorbency is the U by Kotex Click. They are quite small and compact that you can easily carry in a pocket or purse. The tampon expands to its full size in one step. It has a smooth tip for quick and easy insertion. Also, the company makes sure every purchase of this product helps the women with two products they need the most. 
Key features:
These tampons can absorb 6-9 grams of fluid and are also available in different variants for absorbency. The super absorbency and super plus absorbency are the two options you can select from.

They are designed to give full comfort while menstruating.

They expand fully to prevent leaks. So now you don't have to worry about it during heavy bleeding.

It is not made from natural rubber latex and is also free from any scent.

The tampons can be easily inserted, and you will hear a click sound when it fits.

If you need extra protection, you can also buy the pant liners from this brand. 

---
5. Cora Organic Cotton Tampons for Swimming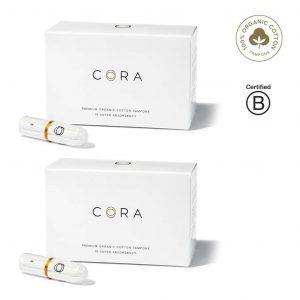 If you are thinking to switch to the natural and organic tampons, then you can consider the Cora Organic cotton tampons. These are made from 100% organic cotton. There are no synthetics or glues used in the making of this product. They are also biodegradable which makes it a better choice over the other options available. You can definitely choose this option as this brand also donates to the women in need with every purchase of this product. 
Key features:
The tampons are made from healthy, comfortable, highly absorbent cotton.

There are no pesticides and chlorine used in the making of it.

The tampons have an octagonal design that makes it comfortable to wear.

They are BPA-free and toxin-free as well which makes it hypoallergenic.

The tampons also have the width-expansion that helps to prevent leaks and offers maximum absorption.

They also have a small plastic applicator. It is easy to insert the tampon as the tip of it is soft and sleek.

---
6. Natracare Organic Regular Tampons for Heavy Flow and Swimming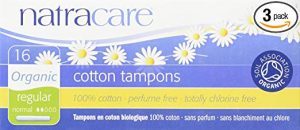 The Natracare organic tampons are the unique ones in this list. They have a cardboard applicator instead of a plastic applicator that comes in other organic tampons. As the brand firmly believes in making environment-friendly tampons, there is no use of plastic or non-biodegradable things to make it.
Key features:
The tampons are made with certified 100% organic cotton.

It can easily be composted as it is biodegradable.

There are no chemicals used in the making of the tampons.

The tampons are free from chlorine and perfumes, which makes them safe for women prone to skin allergies.

The applicator of the tampons makes it easy and comfortable to insert it.

Many women have appreciated that the tampons have higher absorbency that helps to prevent the leaks.

It is easy to use and insert while using public restrooms too. It also doesn't irritate the skin or cause any allergies.

---
7. Veeda Natural All-Cotton Tampons for heavy flow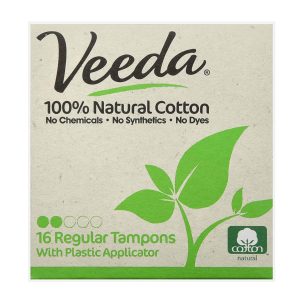 Veeda Natural All-cotton tampons are another excellent option for women looking for natural and organic cotton tampons. It is crafted from the non-GMO and hypoallergenic cotton, which makes it safe to use. It can gently expand all-around to custom-fit your shape. The tampons have reliable leak-proof protection due to its thin all-natural cotton string for removing it easily. These tampons are crafted in such a way that is safe for body and environment both.
Key features:
As it is made from organic cotton, it reduces the risk of skin allergies and irritation.

It is dermatologically and gynaecologically tested.

The tampon is free from rayon, dioxides, pesticide, fragrance, chlorine, dyes and chemicals.

The applicator has a soft BPA-free tip for smooth and comfortable insertion.

There are specialized grooves for better absorption and protection.

it has no chemicals added in these tampons as it only takes 26 seconds for our skin to absorb these chemicals.

There is no fragrance in it as adding a scent can add up to 3,000 chemicals which are again not safe for skin.

---
Remember to change the tampons twice or thrice when there is heavy bleeding. It is always suggested to change it for keeping the infections at bay. So these are some of the tampons you can consider to buy for the heavy periods. All these products have received positive feedback and reviews from its users. I have included organic variants too for the women having sensitive skin. You can choose the one that fits your criteria and budget.