Reviews
Best Menstrual Cup for First Time Users – Beginners Guide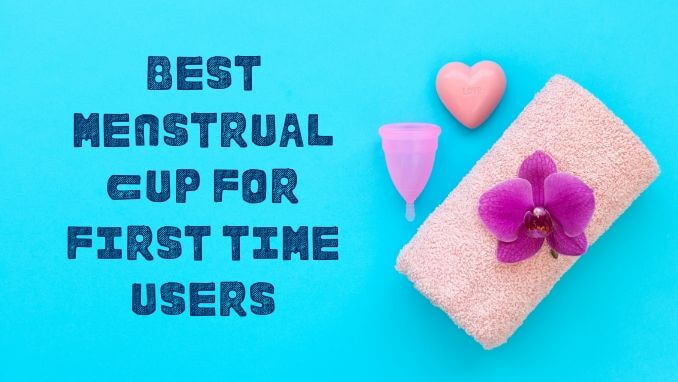 When it comes to managing the periods, most moms of the young girls suggest sanitary pads or tampons. However, now there are many other options available, in which some are very effective, and some are not suitable. The most common and highly preferable choice is the menstrual cup. You may have heard about it and know about its benefits. But even if you haven't, this article can guide you with that. We have provided the top five options of the menstrual cups for beginners. Let's just start with the basics.
What is a menstrual cup?
A menstrual cup is a flexible device. Its shape is like a small, handleless cup. When you are on your periods, you need to wear (instead fix or put) it inside your vagina. Unlike pads and tampons, such cups do not soak the period blood. A menstrual cup collects the period blood and offers no-leak protection for 8 to 12 hours. You need to dump the blood out and then wear the same cup again after washing it with the normal water.
How do I use a menstrual cup?
Wash your hands and the cup. Fold the cup that works best for you. We suggest you start with the C-fold. Gently insert the folded cup into your vagina and set it comfortably. Usually, it should be lower than a tampon, but the stem should be fully inside. Use your fingers to check if the cup is fully open inside your vagina. Feeling a slight suction is essential to ensure the leak protection. Twist or rotate the cup if you still feel the gap. 
After using it for 8 to 12 hours, gently pull the stem of the cup downwards until you can get the hold of your cup. Do not rush, take your time, and pinch the base to release the suction. Pull out the cup and empty it in the toilet. Rinse it or wipe it thoroughly with the tissue and re-insert it.
Best Menstrual Cup for Beginners
1. Lena Menstrual Cups – Reusable Period Cups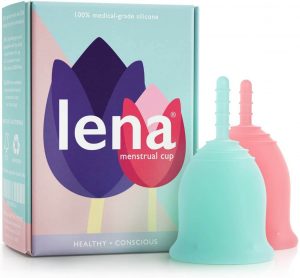 If you are unable to find the definite answer to which menstrual cup is best for beginners, then your search has just ended. Many first-time menstruation cup users suggest that they will never be going to try any other brand as they already got the best one. Lena Cup offers complete protection and a sensation-free period.

2. Saalt Soft Menstrual Cup – Best Sensitive Cup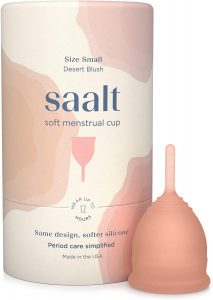 Saalt menstrual cup is ideal for those women who love to keep the toxins away from bodies and the environment. The Saalt Soft Cups were designed in collaboration with the cup experts at Put A Cup In It, who has helped over a million women find their perfect menstrual cup. This flexible cup will inspire you to care for yourself the way nature intended. This Menstrual Cup is best for Low or Slightly High Cervix.

3. OrganiCup Menstrual Cup – Soft and Flexible Cup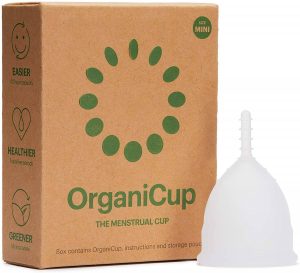 OrganiCup is made of 100% soft medical-grade silicone. These cups are also available in size MINI for teens or those who need a smaller size. OrganiCup Menstrual Cup offers 100% Money Back Guarantee on all orders. If you're not satisfied with the product, you can simply contact them and get your refund. No questions asked. This one is best for the low cervix.

4. Luna Cup Menstrual Cups – Large and Small Cups with a Storage Bag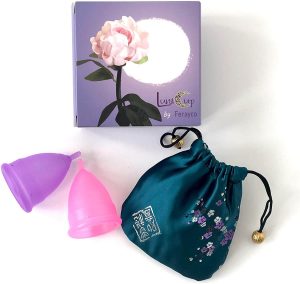 Unlike some of the best brands, the Luna cup includes one large and one small cup in the kit along with the two silky bags to carry them. It looks lovely. Also, there are many combinations available such as two large cups or two small cups or one cup with a zipper bag. You can set a style statement while using the best alternative of pads and tampons.

5. Blossom Small Clear Menstrual Cup – Clear Reusable Period Cup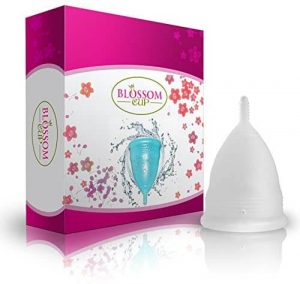 It is a healthy and sustainable alternative to pads and tampons for first-time users. This brand offers better leakage protection than other menstrual products. These cups are natural and will not interfere with your body's natural flow. Many young girls have confirmed decrease flow and reduced menstrual cramps because of Blossom Menstrual Cups.

The Bottom Line
Now as you have read the article, you know the basics that;
Menstrual cups are typically made of silicone or rubber material and come in various shapes and sizes. 

You will find reusable and disposable options available, but we suggest you go for the reusable. They are convenient, comfortable, and eco-friendly. 

They are safe, hygienic, comfortable, as well as affordable. However, everyone has a different opinion about the suitability based on their unique anatomy. 

Don't be surprised if you need to try a few to find the one you really like! Initially, you need to understand how to measure your cervix before buying your first menstrual cup.

Are you supposed to feel a menstrual cup? – Yes. 
Do menstrual cups hurt virgins? – No.
These are the best products, and we are unable to choose one. But as a lot of people ask us which menstrual cup is best for beginners, we love to suggest Lena Menstrual Cups. Don't worry, even if you are using the menstrual cup for the first time. Just keep calm and go through this article one more time and order! We hope that your periods will be cramp-free and stains-free. 🙂