Reviews
Best Pads for Sports Period – Suitable Sanitary Pad for Sports Classes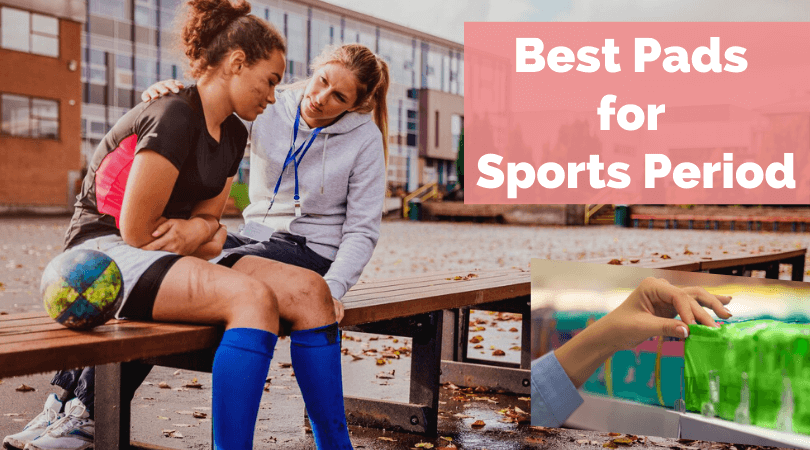 If you're a woman athlete, it is undoubtedly difficult to get through all the pain and period cramps. But, when you are very passionate about your sport, nothing can bother you. The periods are not going to stop you from training, practising, or playing like a beast, right? However, we can't deny the fact that participating in competitive sports when you are going through your first three days of the menstrual cycle is a thing to take care of!
Best Pads for Sports Period
Not only women related to sports, but many other ladies, such as trainers or dancers, also face such issues every month. It is essential to know about the right and the best sanitary pads for sports, tampons, or menstrual cups during the game or practice sessions. This article will throw some light about the same. Here you will get the pads that are specially designed for sports and for the women who have a heavy flow.
1. U by Kotex Fitness Ultra Thin Pads with Wings for Sports Period
The first day of the period is the most difficult one. One may get awful period cramps and a bloated stomach. Also, it is the most critical day to get bloodstains on the clothes or innerwear. That is the primary reason to have the best sports pads so that you can avoid leakages at the time of performances and stay stress free. U by Kotex Fitness Ultra Thin Pads are perfect for yoga, running, or any other workout type.
Key Features and Specifications
These pads provide the ultimate protection even when you are in motion with absorbent pads and wings. There will be no stain while practising!

The company produces ultra-thin pads to make you feel comfortable. They are powerful enough to absorb your regular flow. 

They are individually wrapped for easy transportation. You can take a single piece or in a bunch anytime, anywhere. Keep it conveniently in your gym bag.

U by Kotex Fitness is flexible enough to fit in shape. Even if they move or twist with your body, they will stay in place so that you can play without worrying.

They feature the Xpress DRI Core that absorbs well and quickly locks away wetness. This way, there is no chance for any leak from the pads

.

---
2. Playtex Sport Ultra Thin Pads with Wings
Playtex is a popular name when it comes to getting sport pads for periods. If you are running, dancing, or not doing anything, period cramps can make it really uncomfortable to get through your activities. But, you can get rid of all your worries wearing a trustworthy pad. You are surely going to perform better when you are entirely focused only on the game. Playtex Sport Ultra Thin Pads with Wings can make you feel confident with their best features.
Key Features and Specifications
The Playtex Sport Pads offer a Flex-Fit design. It means that you can play, walk, run, or sleep the way you do throughout the day, without any tension.

The pads are designed with a Qwik-Dry and Anti-Leak Absorbent Core. These features help in pulling the fluid quickly into the pad and lock it inside.

Playtex Sport offers Odor Shield Technology. You may have an experience that many pads leave a terrible smell. These pads neutralize odours in advance.

They have a cottony cover that is ultra-soft and works best to provide extra comfort. You will not get rashes because of the pads.

They fit comfortably in your active lifestyle. Apart from the pads, you can also buy body shape panty liners and tampons manufactured by Playtex.

---
3. La Vie Organic Cotton Top Sheet for Sports Period
If skin near your skin is too sensitive and can't bear standard pads for the whole twenty-four hours, then it's time to switch it to more comfortable pads that do not irritate your skin. La Vie Organic menstrual pads are made with a top sheet of fibres to avoid rashes and irritation. The wings and all other features are the same as any other brands, but these pads are 100% organic. The sanitary pads are free from fragrances or artificial dyes.
Key Features and Specifications
Their organic cotton top sheet has a breathable AirFit cushion. It fits close to your body so that the pad can quickly absorb the fluid and stays dry.

These pads help you to feel comfortable, fresh and protected during the days when you experience heavier flow. It is not scented as molecules of fragrances are also known to irritate the skin. 

La Vie feminine long pads for women are made from an OCS certified top sheet of fibres. They are made from 100% organically grown cotton.

You can use these pads while playing, running, or even at the time of pole dancing. La Vie Organic also provides ultra-thin regular pads and liners.

Many ladies are allergic to chlorine, and that's why they get rashes after their every menstrual cycle. These pads do not include that. They are 100% pure.

---
4. Always Infinity Heavy Flow Absorbency 
We, women, dread the thought of our monthly friends approaching given how uncomfortable it can become to do our daily chores. But do not let them take away the fun from your life, opt for pads that provide you with the utmost comfort and complete protection against the leaks. You can opt for this sanitary pad by Always Infinity with exceptional capacity to absorb and not cause any irritation. 
Key Features and Specifications
These pads are thin and light-weight. You will not get any pressure and feel dry all the time during your periods. They can absorb ten times more than its weight.

Females like these sanitary pads because of their fit and FlexFoam material. It helps the pad to adjust with the twist and turns according to your body's movement.

Always Infinity is specially designed for the ladies who experience heavy flow throughout their periods. The pads come with Flexi-wings for added protection.

These pads give the best protection by tailoring your pad to fit your flow. You will get the exact fit according to your panty size. Use the sizing chart to find your fit.

The brand claims that these pads can give you leak-free protection for 10 hours, although it is advisable to change the pad after 6 hours to maintain hygiene.

---
5. Playtex Sport Combo Pack with Regular Tampons and Ultra Thin Pads
Unlike other products mentioned above, Playtex Sport Combo Pack gives you an option to choose between Regular, Super Tampons and Ultra Thin Pads. You can get 18 unscented tampons and 14 ultra-thin pads in the same pack. If you are unable to decide whether to go for tampons or pads, then buy both! Try using both the products and decide later. Go girl, find your comfort with Playtex Sports Pads for periods.
Key Features and Specifications
This pack gives you the best possible combination of tampons and pads. Whatever the day may bring, you will have protection with you all day long.

The Playtex Sport Tampons and Pads feature a Flex-Fit design. Both of them are perfect for you if you want to be hyperactive throughout your cycle.

The pads are designed with a Qwik-Dry and Anti-Leak absorbent core. Even the Playtex tampons can absorb the liquid the way you have never imagined.

None of these products has any odour or fragrances. In fact, it offers Odor Shield Technology that helps the product in neutralizing any bad period smell.

The tampons are quite popular among women as they give 360 degrees protection and prevent leaks. 

---
All the options stated above work well for providing all-around protection on heavy flow days. And I am sure if you are looking up such articles, you are looking for sanitary pads for sports. So go ahead and try any of the above-stated options and you will not be disappointed. My recommendation would be the third option on this list – La Vie cotton pads as it is perfect for the women having sensitive skin and are seamless too. Go ahead and get the best sanitary pads and do not let periods stop you from doing anything!
Let us know which one would you buy and what other options you will recommend to all our beautiful ladies reading this blog.